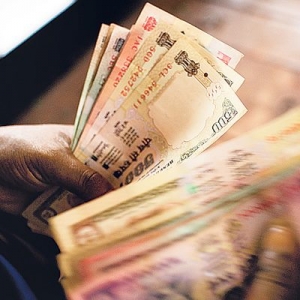 Several lakhs of workers in the organised sector will benefit as the Narendra Modi government is set to raise the salary threshold for mandatory bonus for workers from Rs 10,000 a month at present to Rs 15,000 and the minimum bounty from an annual RS 3,500 now to Rs 4,500. The proposal, agreed to by employers' associations at a recent meeting of an inter-ministerial group, would require Parliament's approval as the Payments of Bonus Act, 1965, requires to be amended for this purpose.
While the minimum bonus is a legal liability on the firms concerned, whether or not they make a profits, these firms are also required to pay the workers a higher bonus if their "allocable surplus" exceeds the amount payable as minimum bonus, subject to a cap (20%) of the salaries.
If the new proposal takes affect, the maximum bonus payable by profit-making ventures would be close to Rs 11,000 as against Rs 8,400 now.
The salary ceiling for mandatory bonus eligibility was last fixed in 2007 and made effective retrospectively from April 1, 2006. While industry associations demanded exempting sick units from the requirement of paying bonus, trade unions have pitched for removal of the ceilings as "profits are not capped", official sources said. The unions also asked for extending the benefit to workers under the Industrial Disputes Act, they added.
Read more @
http://www.financialexpress.com/article/companies/in-bonus-to-workers-cap-on-salary-set-to-be-raised/80971/