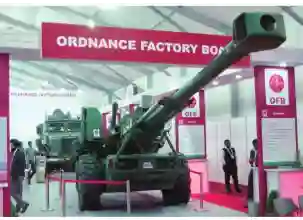 In another corporatisation move, the government has proposed measures to overhaul the ordnance factories in the country. As per the plan the Ordnance Factory Board (OFB) will be scrapped. In its place will be seven new companies looking into the specific manufacturing groups. Yet to be officially announced, these may include ammunition and explosives group, vehicles group, weapons and equipment group, troop comfort items group, ancillary group, optoelectronics group and parachute group. All of the seven new companies will be 100 per cent government-owned public sector undertakings (PSU). The government expects to boost the efficiency and competitiveness of ordnance factories through this move.
The Ordnance Factory Board (OFB) was established by the British in the year 1775. Currently it overseas 41 ordnance factories consisting of 11 ammunition and explosives factories, 10 weapons, vehicles and equipment factories,
and 20 material and components, armoured vehicles and ordnance equipment factories. 18 of them were established by the British, and the remaining 23 came up after independence. These 41 factories will be merged and divided into seven new companies.
It is told that the delays and insufficient production are the primary reasons behind the restructuring of the OFB. In a 2018 report by the Comptroller and Auditor General (CAG), the factories continued to fail to meet the target production and had only achieved 49% of the targeted items in 2017-18. The restructuring aims in converting the OFB into a profitable, extend the product range, improve quality and make it more cost-efficient.
There are approximately 70,000 employees working under different factories of the OFB. The move has been criticised by the unions affiliated with the Left, RSS and Congress. The unions under these federations have been called upon to hold local-level agitation starting on Thursday. The unions are meeting on Sunday to plan for a nationwide indefinite strike. The Confederation Of Central Government Employees & Workers has issued a press
statement expressing solidarity and extending their full support and assuring the defence workers
Read: Confederation press statement against companies taking over ordnance factories
Defense Minister Rajnath Singh has assured the OFB employees that their service conditions and also the pensions and post-retirement benefits will remain unaffected. He also assured that the transitional support and redeployment of the workers, besides safeguarding the wages and retirement benefits, will be taken care of by an Empowered Group of Ministers (EGoM), which will be headed by himself.