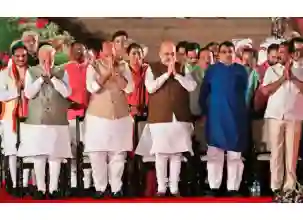 The NDA government under Narendra Modi is poised for a major re-shuffle after two years. This is likely to be a mega expansion of the cabinet shelling out the earlier mantra of minimum governance. The upcoming state election in the 5 states, as well as the 2024 general elections, will factor out in the new team. It is learned that the Prime Minister, BJP chief J P Nadda and senior Cabinet Ministers had reviewed the performances of the ministries. PM had an exhaustive meeting with his Council of Ministers on the reshuffle. It is expected that some of the non-performers will be dropped out. Also, there are Nine ministers with additional charge - Prakash Javadekar, Piyush Goyal, Dharmendra Pradhan, Nitin Gadkari, Harsh Vardhan, Narendra Singh Tomar, Ravi Shankar Prasad, Smriti Irani and Hardeep Singh Puri. Thet may be relieved of the extra ministries
Currently, there are 53 ministers in the Union Cabinet that can have at most 81 members. So 28 additional ministers can be assigned.
It is expected that Jyotiraditya Scindia, whose defection from the Congress last year helped the BJP take back Madhya Pradesh will be reward with a prime cabinet post.
Sarbananda Sonowal, who made way for Himanta Biswa Sarma as Assam Chief Minister is also likely to get a cabinet berth.
Due to the higher support and pressure from JDU, Pashupati Paras, who led a coup against him and split the Lok Janshakti Party may take up the position left by the death of Ram Vilas Paswan. Chirag Paswan may not get the expected position.
Janata Dal-United, who turned away the ministerial posts in 2019 is likely to join the Union Cabinet. JDU leaders Lallan Singh, Ramnath Thakur or Santosh Kushwaha may get the post.
Bihar leader Sushil Modi, Maharashtra leader Narayan Rane and Bhupendra Yadav, a veteran leader in charge of Bihar and Gujarat, are also likely to join the Modi cabinet.
Uttar Pradesh, which will vote for a new government next year, is likely to be well-represented in this round with Varun Gandhi, Ram Shankar Katheria, Anil Jain, Rita Bahuguna Joshi and Zafar Islam among the probable. Apna Dal's Anupriya Patel may also be invited.
From Uttarakhand, Ajay Bhatt or Anil Baluni may be up for ministries.
Pratap Simha is likely to represent Karnataka.
From Bengal, Jagannath Sarkar, Shantanu Thakur and Nitheet Pramaanik are the names in circulation.