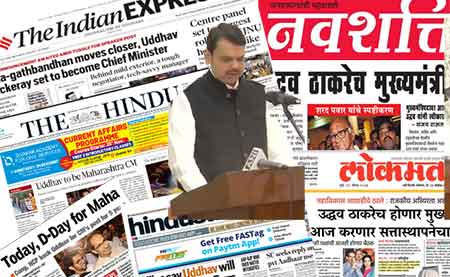 Devendra Fadnavis in surprise twist on Saturday morning took oath as the Maharashtra Chief Minister. The NCP leader Ajit Pawar took oath as the Deputy Chief Minister of Maharashtra.
The move was totally unexpected and on the morning when people were reading the front page news from major dailies that carried the article that Uddhav Thackeray will be the Chief Minister, TV screens were showing the clips of Devendra Fadnavis taking the oath.
Ajit Pawar, the nephew of Sharad Pawar, had been present last night at a meeting after which the Shiv Sena, NCP and Congress announced an alliance with Sena chief Uddhav Thackeray as Chief Minister.
The move comes as a shock in opposite camp as till yesterday night the prospects were that the NCP the Shiv Sena and the Congress will form the government together with Sena chief Uddhav Thackeray as the Chief Minister.
In a quick sequence of events, President Ram Nath Kovind issued the proclamation for revocation of the central rule this morning.
The gazette notification to this effect was issued by Union Home Secretary Ajay Kumar Bhalla at 5.47 am.
BJP's Devendra Fadnavis and Nationalist Congress Party's (NCP) Ajit Pawar took oath as the chief minister and deputy chief minister of Maharashtra after the President's rule was revoked.
It was only when visuals of the oath-taking ceremony were streamed from TV channels, many in the opposition cam came to know about the turn of events.