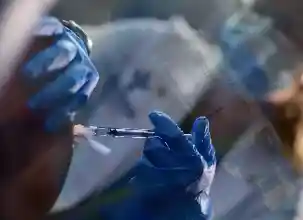 Finally, the date for the start of the vaccination drive has been announced India will begin the mega public coronavirus vaccination on January 16. This was announced after Prime Minister Narendra Modi held a high-level meeting with senior officials to review the Covid situation in the country and finalise vaccine roll-out details.
The Prime Minister called the news a "landmark step forward in fighting COVID-19" in a tweet immediately after the meeting.
Prime Minister Narendra Modi had earlier today told that India is ready to save humanity with two 'Made in India' Covid-19 vaccines. "India used to import PPE kits, masks, ventilators and testing kits from outside but today our nation is self-reliant. Now, India is ready to save humanity with two 'Made in India' Covid vaccines,"
Priority will be given to around one crore healthcare workers and two crore frontline staff, like doctors, community health workers, and police, who are directly involved in fighting the pandemic. The next group who will get priority is the people over 50 and those under 50 but with defined co-morbidities. Around 30 crore people will be vaccinated in the first phase and the vaccine will be free of cost for these groups.
The CoWIN (Covid Vaccine Intelligence Network) app and ecosystem would be used to manage the massive vaccination drive. The CoWIN digital platform will provide real-time information on vaccine stocks and storage temperatures, as well as provide individualised tracking of vaccine beneficiaries. Over 79 lakh beneficiaries have already been registered on the platform, the government has said.
The app which is yet to be launched for the public will use Aadhaar numbers to authenticate vaccine beneficiaries and send text messages - in at least 12 languages - with details of vaccination like the location, date and time.