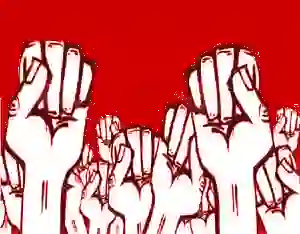 The agitation over pending bonuses to Railway employees may spill over into an "indefinite strike" in Indian Railways that will see "not just one" but multiple demands, including halting the policies of privatisation of trains, a union leader warned on Tuesday.
If the indefinite strike does happen, it would be the biggest rail employees' stir in 46 years – the last one of this kind held only in 1974.
"If the bonus is not declared by October 21, then the union will be forced to give a call to all rail employees across the country to abstain from their duty for a day on October 22," All India Railwaymen Federation general secretary Shiv Gopal Mishra told NewsClick. The federation is the largest railway union, and reportedly the largest employees union in the country.
This bonus to employees has to be given based on their productivity and the revenue generated in 2019-20, Mishra said, adding it is a "legitimate" demand of the rail employees.
Mishra claimed that every year since 1979 – the year when yearly bonus for rail workers was approved – an announcement to disburse them is made usually 15 days before the festival of Dusshera. Subsequently, employees receive the payment within seven days or so.
This year, however, there seems to be an "indifferent attitude" on the part of the Centre in this regard, Mishra alleged, with the said festival only five days away. "It has come to our knowledge that the bonus file has already been approved by the Railway Ministry, but still no declaration has been made yet," he said.
Perturbed by the delay, protests were staged by railway employees as part of observing Tuesday as "Bonus Day". Demonstrations were staged across the country at railway stations and rail depots among others, with Mishra claiming that as many as 8.5 lakh employees participated.