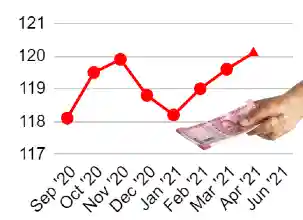 The AI CPI-IW for the month of April 2021 has been published by the Labour Bureau, Ministry of Labour and Employment, Government of India. The figure now stands at 120.1, an increase of 0.5 points from the previous month's figure. On one-month percentage change, it increased by 0.42 percent with respect to the previous month compared to an increase of 0.92 percent recorded between corresponding months a year ago. The increase observed in the index is mainly due to items from the food basket.
However, the inflation for April 2021 was down to 5.14 percent compared to 5.64 percent of the previous month. Food inflation also declined to 4.78 percent from 5.36 percent in the previous month.
The CPI-IW indices till the month of June 2021 will be used for the calculation of the Dearness Allowance from July 2021. With only two more figures are required for this, it can be said that the calculated Dearness Allowance from the month of July 2021 will be 31%. It has to be noted that the government has frozen the DA at 17% till June 2021. There are reports that state that this will continue even beyond. Considering the economic situation in the country due to the pandemic, it has to be seen what action the government will take on the DA.