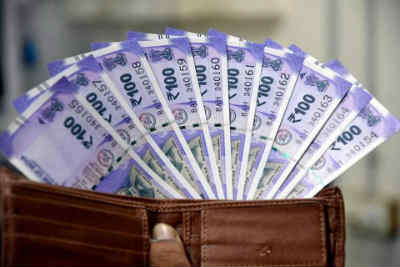 Bank unions and the Indian Banks' Association (IBA) signed a bipartite wage agreement on Wednesday, giving bank employees 15 per cent hike and pushing up the wage bill by Rs 7,900 crore per year. For the first time, there will be uniform basic, dearness allowance, house rent allowance (HRA), special allowance, and transport allowance. The HRA rate will be 10.5 per cent on pay across the country.
Of this, Rs 3,385 crore is for non-officers; the rest for officers. The wage agreement is for the period between November 2017 and October 2022.
Bank employees can expect to get their arrears before Diwali, but no official communication has been issued yet.
"All accumulated increments during this period shall be released with effect from November 11," said a statement issued by the officers' union.
IBA has agreed to recommend the family pension scheme to the government. It is now the government which will decide whether that facility must be extended to bank employees.
Banks currently have a family pension scheme, but it is a truncated version of what is available for other government employees
The wage negotiation covered 29 banks consisting of 12 public sector banks, 10 private banks, and seven foreign banks having 500,000 employees in the banking sector.
The Finance minister Nirmala Sitharaman has asked the nationalised banks to do more for employees who retired earlier so they are not discriminated against in terms of pension. The government has also asked banks to review the family pension scheme so that the pension for the spouse is the same as for the government pensioners.
An update of the pension scheme is seen as necessary because a bank employee who retired in the 1990s gets a fraction of the pension that a recently retired employee draws. This is because the pension is linked to the last drawn basic salary, which will depend on the rates at the time of retirement. Also, the pension was capped at Rs 10,000 in the 1990s.
To remove this difference, banks will need to update their pension scheme. Employees who retired between 1986 and 2010 are eligible for a defined benefit pension. Banks have done some rough calculations based on an actuarial valuation of pension liabilities done in 2018.
Although the annual outgo is not very high, there will be an upfront cost to revamping the family pension scheme. Banks are required to maintain funds to meet future pension liability and this provision requirement keeps going up as interest rates fall and life expectancy increases without any change to the pension scheme. So, an increase in future liabilities could result in a sharp one-time increase in provisioning.