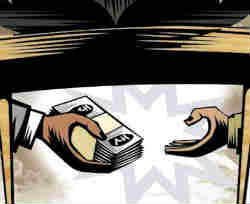 The government has asked over 40 ministries to immediately send details of non-performing and corrupt officers for their compulsory retirement.
The Department of Personnel and Training (DoPT) has sent a letter, marked as 'Reminder Immediate', Tuesday to 45 ministries and government bodies, including NITI Aayog, ministries of agriculture, finance, human resource development and law.
In the letter, the DoPT has asked the ministries to send the names by 13 December.
The DoPT further said that very few cadre units have provided inputs to the department with respect to those who are covered under the extant provisions of FR 56(j) and Rule 48 of the Central Civil Services (Pension) Rules, 1972.
These rules allow the government to carry out compulsory retirement of staff in public interest.
The latest communication from the DoPT comes six months after the government wrote to all ministries asking them to send names of corrupt or non-performing officers to be considered for forced retirement every month.
"The Ministries/Departments should ensure that the prescribed procedure like forming of opinion to retire a Government employee prematurely in public interest is strictly adhered to, and the decision is not an arbitrary one and is not based on collateral grounds," the DoPT letter dated 22 June had said.
However, according to sources in the DoPT, the ministries have been dragging their feet on submitting these details.