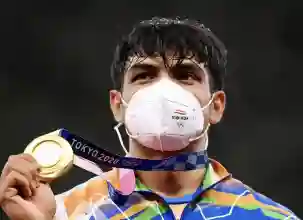 Neeraj Chopra's stunning performance has won a Gold medal for India in the Tokyo 2020 Olympics. In his second attempt, he registered a distance of 87.58m which gave him lead over his opponents.
This is the first gold medal for India in track and field events ever in the Olympics history of more than a century. Also, this is the second individual gold medal in its Olympic history after Abhinav Bindra's heroics in Beijing 2008.
The expectations were high on Neeraj Copra especially after he became the top performer in the qualifying round.
With a throw of 87.03, Neeraj had the lead in the first attempt itself. He further improved with his second attempt, registering a throw of 87.58. His third throw was 76.79. Neeraj Chopra's fourth and fifth attempts were foul throws. At his last throw, he recorded 84.24.
The 23 years old Neeraj Chopra is from Khandra village, Panipat district, Haryana.
He was appointed a Junior Commissioned Officer in the Indian Army with the rank of Naib Subedar.
Defence Minister Rajanath Singh tweeted "The Golden victory of Subedar Neeraj Chopra at the Olympic brings laurels for the Indian Army. He performed like a true soldier at the Olympics. It is indeed a historic and proud moment for the entire country including the Indian Armed Forces! Many congratulations to him!?
CDS General Bipin Rawat tweeted that He has made the Armed Forces & the nation proud.