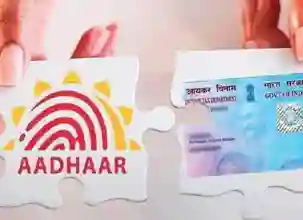 Update: Last date to link Aadhaar with PAN extended to June 30
The last date to link the PAN card with the Aadhaar card is today unless extended by the government. Last year, the government had extended the PAN Card-Aadhaar Card linking deadline till March 31, 2021. The last date to link PAN cards with Aadhaar cards has been extended several times in the past. Will the last date to link PAN with Aadhaar get extended again? "The Government in the Finance Bill has incorporated a provision for levy of a fine of Rs. 1000 where the intimation of Aadhaar details is made after the prescribed date, which is 31 March 2021. This could mean that the Government does not propose to extend the due date further," says Saraswathi Kasturirangan, Partner, Deloitte India. If you still haven't linked your PAN with Aadhaar, now is the last chance to do so and keep your PAN operative.
Linking of PAN to Aadhaar card means that if you hold a PAN card and are eligible to get an Aadhaar number or if you already have an Aadhaar number, then you are required to intimate it to the Income Tax department. If you fail to do PAN Aadhaar linking, your PAN will become 'inoperative' after March 31, 2021.
One may visit the income tax department's e-filing website to link Aadhaar with the PAN card. One may use log-in credentials or one may link Aadhaar and PAN even without logging. The income tax department had already made it clear that for filing of income tax return (ITR), the linking of Aadhaar and PAN is mandatory unless specifically exempted.
PAN and Aadhaar can also be linked through SMS to 567678 or 56161 through your registered mobile number. The format of the SMS is: UIDPAN<SPACE><12 Digit Aadhaar Number><SPACE><10 Digit PAN> For Example: UIDPAN 100023456789 XXYZ0123X.
While linking PAN-Aadhaar, to avoid any delay in linking, ensure your name, birth date and gender are the same on both PAN as well as Aadhaar.