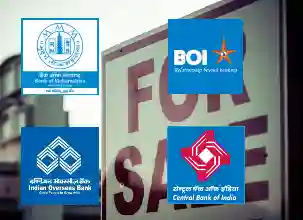 It is reported that the government has shortlisted four banks for privatisation. The reported banks are Bank of Maharashtra, Bank of India, Indian Overseas Bank and the Central Bank of India.
Earlier, in the union budget 2021, Finance Minister, Nirmala Sitharaman had announced the privatisation of two banks as part of its disinvestment plan.
Two of those banks will be selected for sale in the 2021-2022 financial year. The staggering has been done to avoid resistance from joint unions.
Bank of India has a workforce of about 50,000 and Central Bank of India has 33,000 staff, while Indian Overseas Bank employs 26,000 and Bank of Maharashtra has about 13,000 employees, according to estimates from bank unions.
Bank of Maharashtra's smaller workforce could make it easier to privatise and therefore potentially one of the first to be sold.
The government is considering mid-sized to small banks for its first round of privatisation to test the waters. In the coming years, it could also look at some of the country's bigger banks.
The government, however, will continue to hold a majority stake in India's largest lender State Bank of India (SBI), which is seen as a 'strategic bank' for implementing initiatives such as expanding rural credit.
The government wants to overhaul a banking sector reeling under a heavy load of non-performing assets, which are likely to rise further once banks are allowed to categorise loans that soured during the pandemic as bad.