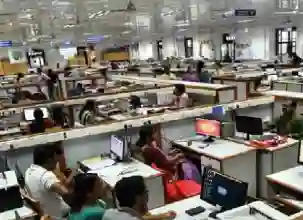 F.No.11013/9/2014-Estt.A. III
Government of India
Ministry of Personnel, Public Grievances and Pensions
(Department of Personnel and Training)
*****
North Block, New Delhi
Dated the 13th February, 2021
OFFICE MEMORANDUM
Subject: Preventive measures to contain the spread of Novel Coronavirus (COVID-19) — Attendance of Central Government officials regarding.
The undersigned is directed to refer to OM of even number dated the 7th October 2020 whereby orders regulating the attendance of Central
Government employees were issued.
Ministry of Home Affairs has issued detailed guidelines on containment of COVID-19 on 27th January 2021, in order to maintain caution and to strictly follow the prescribed containment strategy, focussed on surveillance, containment, caution and strict observance of the guidelines. In view of this, the matter has now been re-considered and it has been decided as under :-

The Government servants at all levels are to attend office on all working days without any exemption to any category of employees.

The officers/staff shall follow staggered timings to avoid over-crowding in offices/workplaces as decided by the Heads of Department.


All officers/staff residing in the containment zone shall be exempted from coming to offices till the containment zone is de-notified. These officers/staff who are residing in the Containment Zone shall work from home and shall be available on telephone and electronic means of communications at all times.

Biometric attendance shall continue to be suspended until further orders.

Meetings, as far as possible, may continue to be conducted with video-conferencing and personal meetings with visitors, unless absolutely necessary in the public interest, are to be avoided.


A Standard Operating Procedure (SoP) on preventive measures to contain the spread of COVID-19 in offices, issued by the Ministry of Health & Family Welfare on 13.2.2021, is also available at https://www.mohfw.gov.in/pdf/SOPonpreventivemeasurestocontainspreadofCOVID19inoffices.pdf All Ministries/Departments/Offices as well as the Central Government employees are directed to ensure strict compliance of instructions issued by MHA, Ministry of Health & Family Welfare and DoP&T, from time to time, on regular sanitization/cleaning of workplaces, maintenance of social distancing norms, wearing of masks and health & hygiene practices etc.

The above instructions shall be in force with immediate effect until further orders.
Sd/-
(Umesh Kumar Bhatia)
Deputy Secretary to the Govt. of India