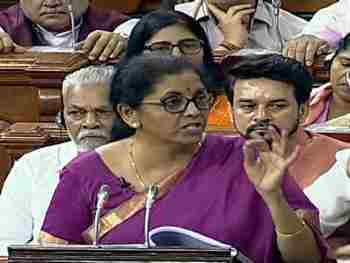 Finance minister Nirmala Sitharaman on Saturday clearly indicated that the government may announce personal income tax rate cut in the upcoming Budget. The FM hinted that the government may relax the personal income tax burden to provide relief to individuals and boost consumption.
Earlier the minister has said that the Govt. will consider suggestions for personal I-T cut during a discussion in Lok Sabha (Read: Govt. will consider suggestions for personal I-T cut: FM )
Talking at the Leadership Summit 2019 organised by the Hindustan Times in Delhi, she said, "A cut in personal income tax) One among the many things we are looking at." When asked how soon there will be a relief on personal income tax, Sitharaman said, "wait for the Budget". It may be noted that the Union Budget for fiscal 2021 will be presented in February.
The Finance Minister added that they would listen to learned economists who "are telling us that we have to move towards a more fiscal stimulus."
In what would be good news for the common man, she further spoke about simplifying the tax regime and making it harassment-free.