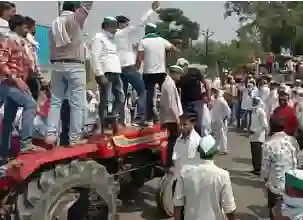 The farmers protesting against the three farm laws have called for a nationwide strike or Bharat Bandh on December 8 2020. Stating that they don't want to cause problems for the common man will observe the strike from 11 am and go on till 3 pm,
The Delhi police have made elaborate security arrangements and have issued a stern warning for trouble makers and forceful closure of shops and establishments.
The farmers terming the new las as corporate-friendly leaving the farmers at the mercy of big corporates. They are under the suspicion that the current system of MSP will be scrapped. However, the government is maintaining that the laws are farmer-friendly and will lead to increased income for the farmers. The government has said that it won't roll back the laws but has agreed to amend them as demanded by the farmers.
Apart from the opposition parties, the following unions are supporting the strike.
Indian National Trade Union Congress (INTUC)
All India Trade Union Congress (AITUC)
Hind Mazdoor Sabha (HMS)
Centre of Indian Trade Unions (CITU)
All India United Trade Union Centre (AIUTUC)
Trade Union Co-ordination Centre (TUCC)
Self-Employed Women's Association (SEWA)
All India Central Council of Trade Unions (AICCTU)
Labour Progressive Federation (LPF)
United Trade Union Congress (UTUC).
The All India Bank Officers' Confederation (AIBOC) and All India Bank Employees' Association (AIBEA) have expressed their solidarity with protesting farmers but will not participate in the strike. and Indian National Bank Officers' Congress (INBOC) have also requested the government to initiate meaningful dialogue to resolve the matter.
All India Motor Transport Congress (AIMTC) representing about 95 lakh truckers will suspend operations in the entire country on the day in support of the Bharat Bandh.
The All India Railwaymen's Federation has also extended its support to Bharat Bandh.