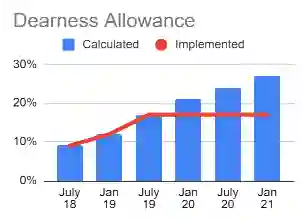 The Labour Bureau has the Consumer Price Index for Industrial Workers (CPI-IW) for the month of November 2020. The index now stands at 119.9, arise of 0.4 points over one month. On a percentage scale, the index rose by 0.33% between October and November 2020 compared to an increase of 0.92% increase between the corresponding months of the previous year.
According to the Ministry of Labour & Employment's data, in November 2020, the maximum upward pressure in current index came from Food & Beverages group contributing (+) 0.25 percentage points to the total change. However, poultry and vegetable which saw a negative impact on the index
This is the third figure released for the CPI-IW index for the series with the base year 2016.
CPI(IW) Base 2016=100 Monthly Index
| | |
| --- | --- |
| September 2020 | 118.1 |
| October 2020 | 119.5 |
| November 2020 | 119.9 |
| December 2020 | |
The Dearness Allowance for the Central Government Employees is calculated based on 12 months average CPI-IW index. For the Central public sector employees, the Dearness Allowance is calculated based on the average over the last three months.
With 11 of the 12 index values required to calculate, the DA from January 2021 can be estimated. Earlier, with the CPI-IW index released with the base year 2001, the DA was calculated based on the formula
(Average of the All-India Consumer Price Index (Base year -2001 =100) for the last 12 months -115.76)/115.76} x 100
However, with the new index with 2016 as the base year, the calculate is all set to change. However, the impact on the DA from the price rise will almost be the same with old and new series. Hence considering the percentage changes, it can be said that the calculated DA from January 2021 to be 27%.
However, as there is the DA freeze announced by the government, the benefits due to the DA increase will be available from July 2021 only.