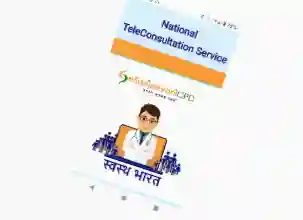 The government telemedicine service, eSanjeevani has crossed 10 lakh teleconsultations.
eSanjeevani National Teleconsultation Service of Ministry of Health and Family Welfare, developed by Centre for Development of Advanced Computing (Mohali). eSanjeevani - a doctor to doctor telemedicine system is being deployed nationally for the Ministry of Health & Family Welfare at 155,000 Health and Wellness Centres under Ayushman Bharat Scheme of Government of India. eSanjeevani is accessible to the people in 27 States/UTs across India and provides eHealth services through more than 6,000 doctors who man 217 online OPDs.
The government's eSanjeevaniOPD platform that was launched amid the COVID-19 pandemic, provides utility and easy access for the caregivers and the medical community and those seeking health care services in the times of coronavirus.
The roll-out of eSanjeevani is supposedly the first of its kind of digital transformation in the delivery of health services at a national scale by a developing country. Ministry of Health in a statement said that during the COVID-19 pandemic, eSanjeevani not only brought about a huge digital transformation in the delivery of health services but also boosted the digital health ecosystem in the country. The Ministry said that the eSanjeevani is being used by patients in over 550 districts of India. Over 10 per cent of the users of eSanjeevani are aged 60 and above. Close to around one-fourth of the total patients have used eSanjeevani more than once. These stands as a testimony to the fact that the public has started preferring telemedicine over visiting hospital OPDs for consulting a doctor.
Through eSanjeevani OPD, anyone can seek medical advice and medication through audio and video.
For more details, visit https://esanjeevaniopd.in/