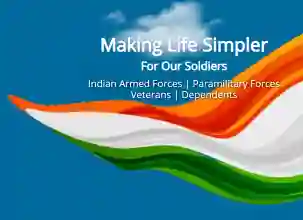 udChalo - an initiative by UpCurve Software Consulting Pvt. Ltd, started by a group of graduates from Army Institute of Technology, Pune, provides services exclusively serving and retired defence personnel and their families. The company offers flight tickets at discounted rates exclusively for the Indian Armed Forces, Ex-Servicemen and their dependents.
The udChalo have partnerships with major airlines including Indigo Airlines, SpiceJet, Air Asia, Vistara and Go Air to offer special fares to the Indian Armed Forces Community
Though a private company, the association of the company founder with the defence services mooted the idea of offering services as the company claims, empower the lives of the Indian Defence Personnel, Veterans and their Dependants with simple travel choices and solutions.
The booking offices are operated by Veterans/Veer Naris/Dependents from the Indian Armed Forces community. our booking offices in various cities. The call centres are managed by Paraplegic and Quadriplegic Veterans, at the Paraplegic Rehabilitation Centres in Pune and Mohali. The company also offers integrated services with tie-ups with chain partners, bus and taxi services
The company has the udChalo Shradhanjali initiative that provides a free ticket to NOK or one person accompanying mortal remains of fatal battle casualties. As a tribute to Army Institute of Technology, Pune the company instituted the AIT scholarship for deserving and meritorious students of the Institute.
The company is also offering Tax filing as a service offering and is in the process of integrating additional services for the defence personnel.
Tickets can be booked online at https://www.udchalo.com/. The process is easy and simple like any general travel agent site. For booking the flight tickets, it is required to enter the Service number. For Paramilitary and AWES college students scan copy of any one of ECHS/Dependent/Canteen Smart Card/AWES College ID card can be uploaded. For SSB candidates, call letter copy can be uploaded.
The tickets issued under udChalo deals are non-refundable but amendable as per airline guidelines
More details are available at https://www.udchalo.com/