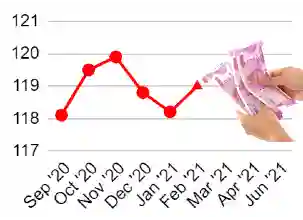 The Labour Bureau has published the All India Consumer Price Index for Industrial Workers (AI CPI-IW) for the month of February 2021. The index saw an upward movement by 0.8 points from the previous month and now stands at 119. The upward trend comes after dips in the last two consecutive months. The index decreased by 0.6 points and stood at 118.2 during January 2021 and decreased by 1.1 points in the month of December 2020.
The upward movement was mainly due to Food & Beverages, Fuel & Light and Miscellaneous groups. During the period, increase in prices of items like Milk, Mustard Oil, Soyabean Oil, Sunflower Oil, Apple, Mango, Orange, Lady Finger, Onion, Parval, Served & Processed Packaged Food, Barber Charges, Cooking Gas, Petrol, etc. had a significant impact. Inflation for February 2021 went up to 4.48 per cent compared to 3.15 per cent for the previous month.
Similarly, Food inflation also rose to 4.64 per cent from 2.38 per cent in the previous month.
The CPI-IW indices till the month of June 2021 will be used for the calculation of the Dearness Allowance from July 2021 and four more figures are required for this. However, with the data for eight months of the twelve required, a rough estimation suggests it will be somewhere around 30% to 31%. The government has frozen the DA till June 2021. Hence it is expected that the Hike DA will be available from the month of July 2021