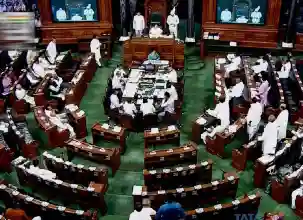 The BJP sent the national capital in a tizzy by issuing a three-line whip in both Lok Sabha and Rajya Sabha asking all its members to be present in Parliament on Tuesday, which is the last working day before the Budget Session recess.
There are speculations that the Modi govt might introduce the controversial Uniform Civil Code (UCC) and hence the whip. A document listing few pending bills including legislation on Uniform Civil Code has started circulating on social platforms. However, the authenticity is yet to be acertained. Rajya Sabha secretariat, however, stated that the document may be fake. Senior Upper House officials said that no new bill is likely to be introduced as none has gone through the mandatory listing process.
Meanwhile, leaders from opposition parties prepared for a showdown against the Centre just in case a new bill is brought in without being circulated. A senior opposition leader said, "The government has a habit of sneaking in crucial legislation. This is exactly what the government had done to bring in the legislation to abrogate Article 370 and turn Jammu and Kashmir into union territories."
There are some indications that the government may have issued the whip for MPs to push the Direct Tax Vivad Se Vishwas Bill, 2020 for passing in Lok Sabha on Tuesday.
Finance Minister Nirmala Sitharaman had introduced the bill proposed during the Budget on February 5. The bill provides for a mechanism for the resolution of lakhs of pending tax disputes in the country.