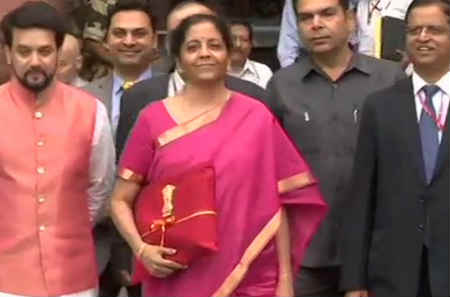 The Middle-class hopes on change in Income Tax slabs are again dashed. Despite the expectations, as the FM has kept the tax slabs and rates unchanged except that the surcharge on individuals with a taxable income of Rs. 2-5 crore raised to 3%, and Rs. 5 crores to 7%.
The other major highlights impacting the middle-class are
Additional deduction of Rs. 1 lakh on interest paid for affordable house of Rs. 45 lakh, borrowed on or before March 31, 2020. After interest deduction, affordable home buyers will gain tax benefit of Rs. 7 lakh over the period of interest deduction
Re 1 per litre cess on petrol and diesel.
Import duty on gold and precious metals hiked to 12.5% from 10%.
Additional Income Tax exemption Of`1.5 Lakh On Interest Paid On Loans for electric vehicles.
NPS Trust will be separated from the Pension Fund Regulatory and Development Authority (PFRDA).
PAN and Aadhaar made interchangeable, allowing those who do not have PAN to file return.
Pre-filled tax returns to contain information from salaries, bank interest, capital gain and dividend income to be made available.
GST rate on electric vehicles (EV) to be reduced from 12 % to 5 %.