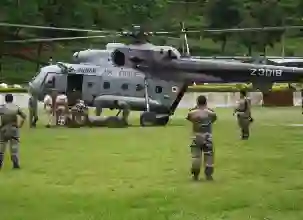 The Indian Air Force has put 100 of its transport planes and helicopters on standby for the emergency distribution of the COVID 19 vaccine. Anticipating that it will be called upon to airlift the vaccine to the remotest parts of the country, the air force has identified three different types of assets that will be pressed for this national duty. The heavy-lifting of vaccines from pharma companies to 28,000 cold-chain storage centres will fall on the C-17 Globemaster, C-130J Super Hercules and IL 76. The AN-32 and Dorniers will be deployed for smaller centres. Last-mile delivery will be the responsibility of ALH, Cheetah and Chinook helicopters.
Once the vaccine is approved, the biggest challenge is distribution. Distributing the vaccines in India's first mass adult vaccination drive will be an uphill task. There is no adult vaccination programme in the country except tetanus for pregnant women. There are also bottlenecks in India's cold chain infrastructure.
The transportation of the vaccine under the maintained cold environment in cooling boxes very requires fast deliveries. Regular road-based systems will not be an option and the fallback is air transport. Globally, it is estimated that 15,000 flights will be required across various supply chain set-ups in the next two years.
Hectic backend preparations for the mammoth exercise of vaccinating lakhs of people are going on a war footing manner. Delhi and Hyderabad airports' air cargo services are all set to play a pivotal role in its distribution through state-of-the-art time and temperature-sensitive distribution systems. Delhi airport facility has state-of-the-art temperature-controlled zones with separate cool chambers ranging from -20 degrees to 25 degrees Celsius, which would be extremely conducive for the distribution of the Covid-19 vaccines.
SpiceJet has established a dedicated freighter division SpiceXpress with a dedicated fleet of 17 cargo aircraft. It is having the capability to transport extremely sensitive drugs and vaccines in controlled temperatures ranging from -40°c to 25°c. Since the lockdown began, SpiceJet and its cargo arm, SpiceXpress, have worked relentlessly to ensure the transport of vital goods and medical supplies to all corners of India and the world