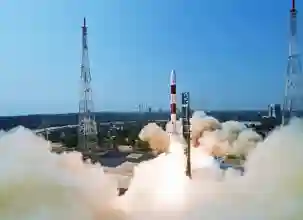 NewSpace India Ltd (NSIL) in its first fully commercial mission from Sriharikota in Andhra Pradesh has placed 19 satellites in a sun-synchronous orbit. The launch was carried out using the ISRO Polar Satellite Launch Vehicle-C51 (PSLV-C51). The successfully placed satellites include Amazonia-1, which is the primary passenger and 18 other satellites. These include 12 satellites from the United States.
The 18 co-passenger satellites are Satish Dhawan Sat (SDSAT) from Chennai-based Space Kidz India (SKI) and the UNITYSat which is a combination of three satellites, designed and built as a joint development initiative by Jeppiaar Institute of Technology, Sriperumbudur, (JITsat), G. H. Raisoni College of Engineering, Nagpur (GHRCESat) and Sri Shakthi Institute of Engineering and Technology, Coimbatore (Sri Shakthi Sat).
This is the PSLV-C51's 53rd flight and the first one in the year. The mission had one of its longest journeys which lasted two hours and eight minutes. It was described as a textbook style launch with every move as planned.
NewSpace India Limited is a Central Public Sector Enterprise of the Government of India and commercial arm of ISRO. The main objective of NSIL is to scale up industry participation in Indian space programmes. The mission aims in putting a total of 342 foreign satellites into orbit.