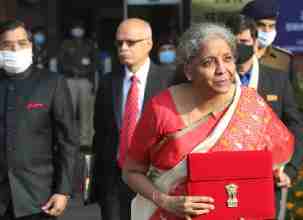 Budget 2021 has been an absolute disappointment for the middle class. The Finance minister chose to keep the I-T slabs remain unchanged. Also no particular relief for the middle class in terms of income tax exemption.
Senior citizens above 75 years of age with only pension income, however, are exempted from filing tax returns. This move is not meant to bring any financial benefits.
The slew of hike in customs duty to benefit Make in India will actually cause a hike in many commodities such as mobile phones.
Petrol and diesel are set to get expensive as the government has proposed farm cess of Rs 2.5/litre on petrol, Rs 4 on diesel.
The absence of the much-feared Covid tax and the surcharges on Income Tax is a great relief.
ITR filing will be made easy with details of capital gains, income from list securities, dividend income, income from interest on bank deposits tom come pre-filled in ITR.
Top 5 takeaways for taxpayers
No tax burden on senior citizens above 75
Tax assessment can be re-opened only up to 3 years
Dispute Resolution Committee for small taxpayers
Additional deduction of Rs 1.5 lakh for purchasing affordable house.
Relief from double taxation for NRIs