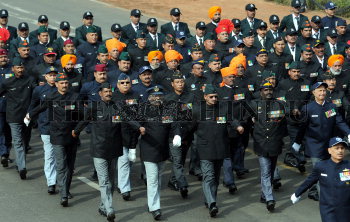 Defence Minister Rajnath Singh announced on Friday that the Defence Ministry has established an online portal to resolve pension-related grievances of ex-servicemen (ESM) and their dependents. The portal was launched as an attempt to resolve and felicitate the Defence veterans.
On the occasion of Armed Forces Veterans Day, he stated that the portal will allow them to lodge grievances directly with the Department of Ex-Servicemen Welfare (DESW).
The portal will help existing and future military pensioners, he mentioned. "An application of the portal will auto-generate and forward SMS and email to the applicants on their registered number and email, intimating confirmation and tracking status," he noted.
The DESW (Department of Ex-Servicemen Welfare) receives a large number of grievances on a variety of issues, including pension-related issues. Considering the sheer number of defence retirees, addressing the grievances is a herculean task. A dedicated pension grievance redressal platform was necessary in order to facilitate the prompt and effective resolution of these issues. The Portal is dedicated to resolving pension, including family pension, and related grievances of Ex-Servicemen and their descendants in a timely and efficient manner. Applicants will be able to address their concerns to the Department of Ex-Servicemen Welfare through this website, https://rakshapension.desw.gov.in.
Over 60,000 military personnel retire or are discharged every year and the bulk of them are between 35 and 45. The portal was created to help these defence pensioners and their dependents. Using the portal, ESM widows and dependent children of veterans can apply for schooling and marriage allowance. On submitting a grievance using the portal, it will immediately generate and send SMS and email notifications to the applicants' registered cellphone number and email address. Applicants can also provide feedback to help enhance grievance resolution. Almost 25 lakh current and future military retirees are expected to use this service.