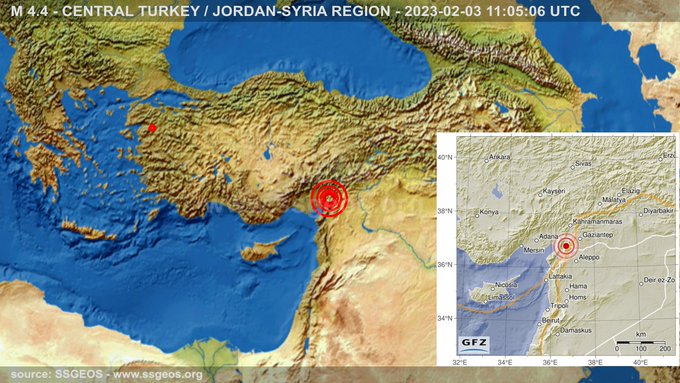 On Monday, an earthquake shook Turkey and Syria, wreaking havoc on the world. More than 20,000 people have reportedly died in both countries so far. The death toll is likely to rise further as rescue operations are still underway.
In a fearsome prediction for India and the sub-continent, Dutch researcher Frank Hoogerbeets has stated that the Asian countries are next in line will be facing Turkey-like earthquakes or natural disasters. Notably, Dutch researcher Frank Hoogerbeets had predicted that Turkey will be witnessing devastating earthquakes three days before. As per reports, three days earlier to the massive earthquakes in Tukiye and Syria and Lebanon, Dutch researcher Frank Hoogerbeets predicted it on Twitter. He also estimated seismic activities in India, Pakistan, and Afghanistan. In a video that has gone viral, Frank Hoogerbeets can be seen foretelling a major earthquake that will start in Afghanistan. As per Frank, the seismic activity will ultimately end in the Indian Ocean after crossing Pakistan and India.
The Dutch Researched in the video can be heard saying, "these areas could be next candidate for larger seismic activity if we look at the atmospheric fluctuations but again keep in mind that these are rough estimates and not all large earthquakes leave a footprint in the atmosphere they do not always announce themselves". He claims that these projections are tentative because not all significant earthquakes can be detected by atmospheric fluctuations.
However, areas that are more prone to earthquakes can be identified earlier. According to the Ministry of Earth Sciences, more than half of the total land area in India is in seismic zones. These are classified as very high-risk areas, high-risk areas, and moderate-risk areas.
Parts of the states of Gujarat, Uttarakhand, Himachal Pradesh and Bihar are included in the very high-risk zone.
Most western Himalayan states, including Jammu and Kashmir, Ladakh and Uttarakhand; Most of Himachal Pradesh, some parts of Punjab, Haryana, Uttar Pradesh, Bihar, north West Bengal, Sikkim, Gujarat and Maharashtra are among the high-risk areas.
Delhi, Kolkata, Patna, Shimla, Ludhiana, Amritsar, Chandigarh, Darjeeling, Ghaziabad, Ambala, Dehradun, Gorakhpur, Moradabad, Nainital and Roorkee are the cities that fall under the high-risk areas.