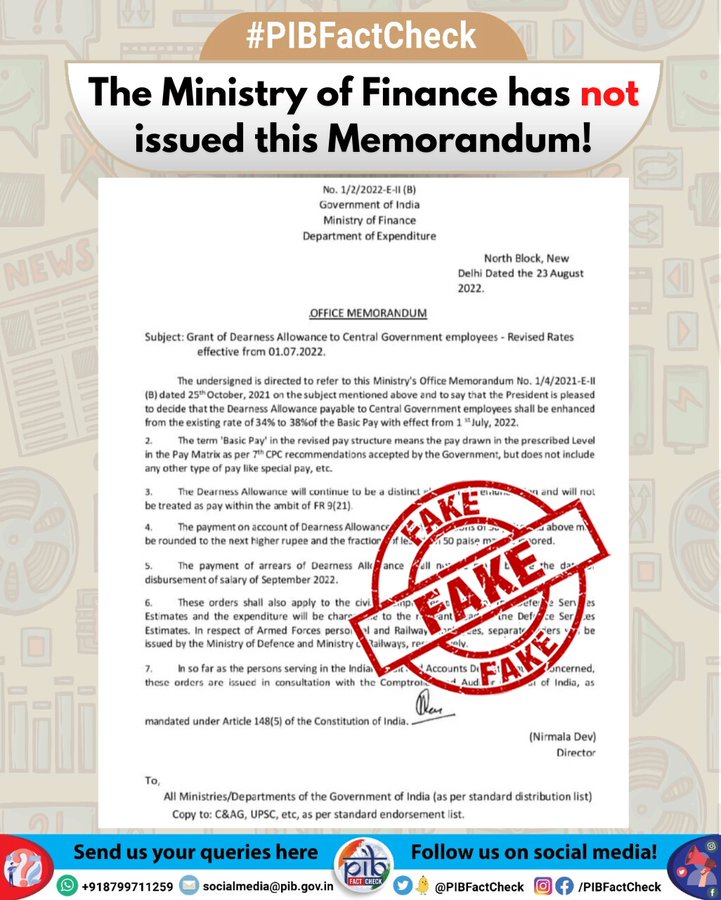 A letter suggesting that the dearness allowance (DA) for central government employees has increased from 34% to 38% has been clarified by the fact-checking division of the Public Information Bureau (PIB), the center's nodal body as fake.
Sharing a picture of the circulated "false order," the PIB fact-checking team posted on Twitter. "A fake order circulating on WhatsApp is claiming that the additional instalment of Dearness Allowance will be effective from July 1, 2022. The Department of Expenditure has not issued any such order." The text on the image read, "The Ministry of Finance has not issued the memorandum."
"Grant of Dearness Allowance to Central Government employees- Revised Rates effective from 01.07.2022," said the subject line of the "fake circular, " circulated on Whatsapp and other social media platforms.
This was followed by the note that stated, "The President is pleased to decide that the Dearness Allowance payable to Central Government Employees shall be enhanced from the existing rate of 34% to 38% of the basic pay with effect from July 1 2022."
To make it appear genuine, it also had a memo number and forged signature of Nirmala Dev, the Deputy Secretary of the Government of India.
The Dearness Allowance is updated twice a year, in January and July, by the central government for its employees. The central government had raised the DA by 3%, bringing it to 34%, in January 2022. The next hike is due in July 2022. Generally, the cabinet decision on the July DA hike will be taken at September end or October.
Comments
The Dearness Allowance is now being received by over 47 lakh central government employees and more than 68 lakh pensioners.