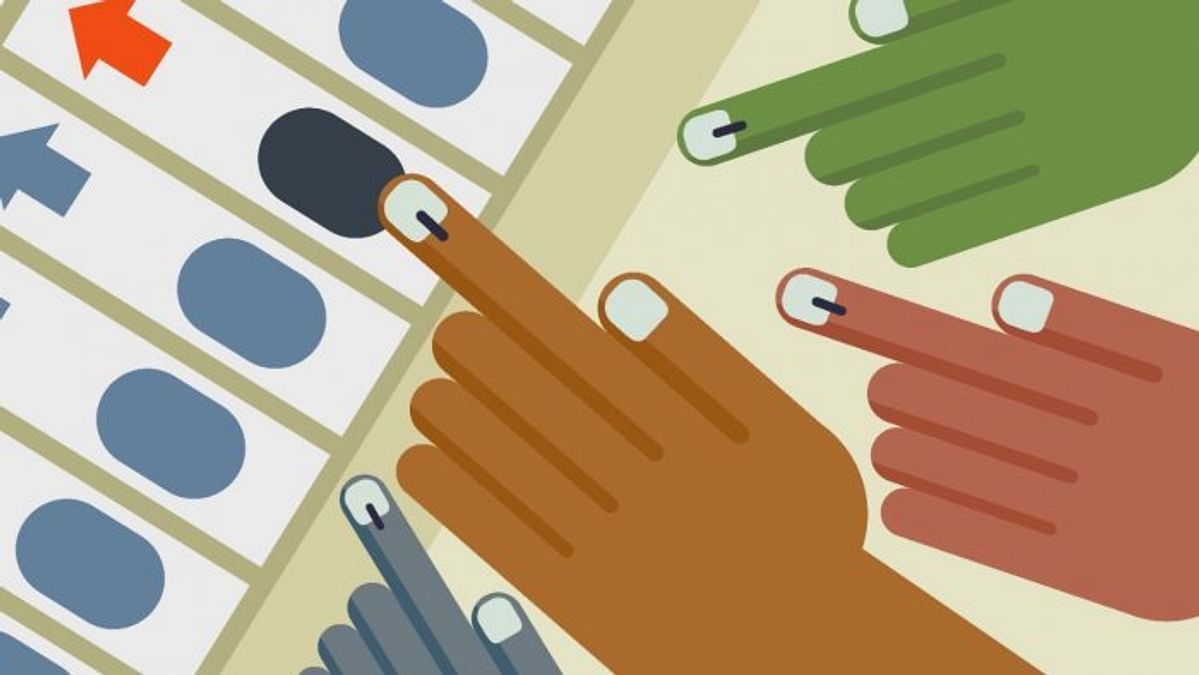 F. No. 12/1/2022-JCA
Government of India
Ministry of Personnel, Public Grievances and Pensions
(Department of Personnel & Training)
Establishment (JCA) Section
North Block, New Delhi
Dated: 23 October, 2023
OFFICE MEMORANDUM
Subject: General Election to the Legislative Assemblies of Chhattisgarh, Madhya Pradesh, Mizoram, Rajasthan and Telangana, 2023 and Bye —Election to 43-Tapi (ST) Assembly Constituency of Nagaland, 2023 - Paid holiday - regarding
The undersigned is directed to state that as informed by the Election Commission of India, vide their letter no. 78/EPS/2023/2000 dated 10.10.2023 and letter no. 78/EPS/2023/2016 dated 11.10.2023, General Election to the Legislative Assemblies of Chhattisgarh, Madhya Pradesh, Mizoram, Rajasthan and Telangana, 2023 and Bye-election to Bye-Elections to 43-Tapi(ST) Assembly Constituency of Nagaland, 2023 are scheduled to be held as under:-
Schedule for General Elections to the Legislative Assemblies:

| | | | | |
| --- | --- | --- | --- | --- |
| S. No. | Phase | Assembly Constituencies | Date of Poll | Day |
| 1. | Chhattisgarh (Phase I) | 20 (ACs) | 7.11.2023 | Tuesday |
| 2. | Chhattisgarh (Phase Il) | 70(ACs) | 17.11.2023 | Friday |
| 3. | Mizoram | 40 (ACs) | 7.11.2023 | Tuesday |
| 4. | Madhya Pradesh | 230 (ACs) | 17.11.2023 | Friday |
| 5. | Rajasthan | 200(ACs) | 25.11.2023 | Saturday |
| 6. | Telangana | 119 (ACs) | 30.11.2023 | Thursday |

Schedule for Bye- Elections to the Legislative Assembly of 43Tapi (ST):

| | | | | |
| --- | --- | --- | --- | --- |
| S. No. | Phase | Assembly Constituencies | Date of Poll | Day |
| 1. | Nagaland | 43- Tapi (ST) | 7.11.2023 | Tuesday |


2. Section 135B of the Representation of the People Act, 1951 provides for the grant of paid holiday on the day of the poll to the employees who are entitled to vote at the election concerned. In this connection, the Department of Personnel and Training has standing guidelines issued vide OM No. 12/14/99-JCA dated 10.10.2001 regarding the closure of Government Offices and grant of paid holidays during election. A copy of these guidelines is enclosed. It is directed that these guidelines may be complied with and necessary action taken accordingly.
3. The above instructions may be brought to the notice of all concerned.
4. Hindi version will follow.
Encl: As above.
(Parveen Jargar)
Deputy Secretary to the Government of India
---
NO. 12/14/99-JCA
GOVERNMENT OF INDIA
MINISTRY OF PERSONNEL, P.G. & PENSIONS
(DEPARTMENT OF PERSONNEL & TRAINING)
NORTH BLOCK, NEW DELH!

NEW DELHI, THE 10th OCTOBER, 2001
OFFICE MEMORANDUM
Sub: Closing of Central Government Offices in connection with elections to Lok Sabha / State Assembly /Panchaya/t Municipalities / Corporation or other Local Bodies -regarding
In Modification of these instructions contained in this Department's OM 12/4/86-JCA dated 9th March 1986, the undersigned is directed to say that the following guidelines are prescribed for the future for closing of Central Government Offices including industrial establishments in connection with the elections indicated above.
The: relevant organizations shall remain closed in the notified areas where general elections to Lok Sabha or State Legislative Assembly are scheduled to be conducted.

In connection with the bye-election to Lok Sabha / State Assembly, only such of the employees who are bonafide voters in the relevant constituency should be granted special casual leave on the day of polling. Special Casual leave may also be granted to an employee who is ordinarily a resident of a constituency and registered as a voter but employed in any Central Government Organization / Industrial Establishment located outside the constituency having a general / bye-election.

In connection with local body elections, viz., Panchayat/ Corporation / Municipality, the Government employees who are bonafide voters and desire to exercise their franchise should be offered reasonable facility, subject to normal exigencies of services, either by coming late to office or being allowed to leave office early or a short
2. The employees detailed on election duty may also be permitted to remain away from their normal duties on polling day (s) as also on the days required for performing journeys which might be undertaken in order to perform such election duty.
The above instructions may be brought to the notice of all concerned.

(Ranbir Singh)
Under Secretary to Govt. of India
Tel : 379 4678

1. All Ministries/ Departments of the Government of India.
2. UPSC/CVC/C&AG/ PM's Office/ Lok Sabha Secretariat/Rajya Sabha Secretariat/President's Secretariat/Vice President's Secretariat/Supreme Court/High Court/Central Administrative Tribunal.
3. All attached and subordinate offices of the Ministry of Personnel, P.G. & Pensions/ MHA
4. Secretary, Staff Side, National Council (JCM), 13-C, Ferozeshah Road, New Delhi.
5. All Staff Members of the National Council (JCM).
6. All Staff Members of the Departmental Council (JCM), Ministry of Personnel, P.G. and Pensions.
7. Chairmen / Secretaries, Central Government Employees Welfare Coordination Committees.
8. National Commissioner for SCs / STs.
8. Deputy Secretary (Coordination), Defthi Govt. Secretariat, 1.G. Stadium, |.T.0., New Delhi.
10. Chief Secretary, al! the State Governments / UTs.
11. Election Commission of India, w.r.t. their letter No. 78/2001-PLN-1/103, dated 19.9.2001.