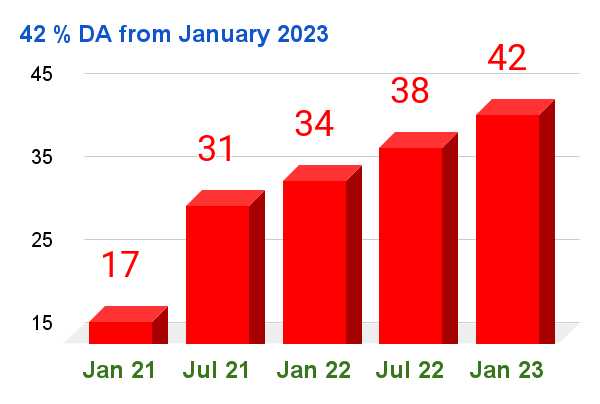 The All-India CPI-IW for October 2022 has been released by Labour Bureau. The increased by a sharp 1.2 points and now stands at 132.5. On 1-month percentage change, it increased by 0.91 per cent with respect to the previous month compared to an increase of 1.30 per cent recorded between corresponding months a year ago. The major contributions to the price rise came from the Food & Beverages price rise contributing 0.76 percentage points to the total change.
For the central government employees' Dearness Allowance increase, the AI CPI-IW statistics will be the foundation. One of the most eagerly awaited pieces of news for CG staff is the increase in Dearness Allowance. The Dearness Allowance beginning in January 2023 will be calculated using the CPI-IW for the months of January to December 2022. It is premature to estimate the precise DA from January 2022 because two more figures up to the month of December 2022 are needed for this computation. However, assuming a minimum increase in the CPI indices during the ensuing two months, the central government employees expect that the DA will once more experience an increase of 4% starting in January 2023, bringing the DA to 42%. This will also for the basis for the DA hike for the state government employees.
For details on how the calculation, check out the page New DA calculation formula as per the AI CPI-IW series with base 2016
You can calculate the DA yourself with the Staffcorner DA calculator.
📈 Check out the StaffCorner Expected Dearness Allowance (DA) from January 2023 Calculator