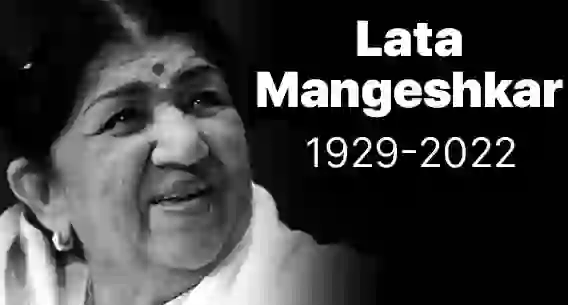 Hospitalised after contracting Covid-19, Lata Mangeshkar, also known as the Indian Nightingale, passed away at 92 early on Sunday.
Two-day national mourning will be observed in memory of Lata Mangeshkar. The national flag will fly at half-mast for two days, as a mark of respect for the legendary singer.
Prime Minister Narendra Modi mourned the loss of the Bharat Ratna awardee saying, "Coming generations will remember her as a stalwart of Indian culture, whose melodious voice had an unparalleled ability to mesmerise people."
Her condition had deteriorated on Saturday and was put on ventilator support. A public darshan will be held at Shivaji Park in Mumbai and she will be accorded a state funeral.
Breach Candy hospital medical director said that Mangeshkar passed away at 8.12 am. "She came here as a Covid patient and age were against her. We tried our level best to save the legend, but she had complications."
On Saturday, Dr Pratit Samdhani of Breach Candy hospital, who was treating her, had performed certain procedures and said that she was responding to them well.
She was admitted in the first week of January with Covid-19 and pneumonia. She had recovered from the infection and was also put off ventilator support last week.
Daughter of Pandit Deenanath Mangeshkar and Shevanti Mangeshkar, Lata Mangeshkar was born on September 28, 1929 in Indore in Madhya Pradesh. She started her career at the early age of 13 after the death of her father died as she had to look after her mother and four siblings.
Her father played a monumental role as an early influence on the budding singer as he was a well-known Marathi musician and theatre artiste.