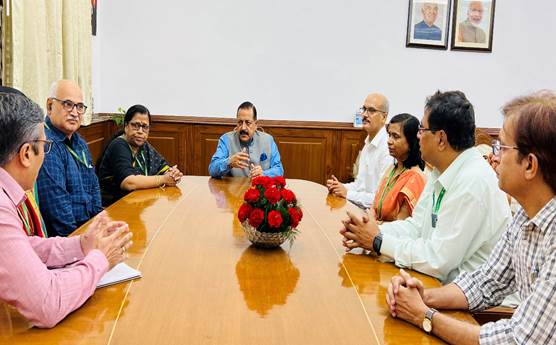 The Department of Personnel & Training (DoPT) is prepared with the next batch of officers who will receive their promotion in the next two to three weeks after providing mass promotion to over 8,000 central government employees in one go.
When a group of Central Secretariat Official Language Service Group-A officers visited him today, Union Minister of State (Independent Charge) for Science and Technology, Minister of State (Independent Charge) for Earth Sciences, and Minister of State for Personnel, Public Grievances, Pensions, Atomic Energy, and Space, Dr. Jitendra Singh, made this statement.
The Minister gave the group the assurance that their promotion applications will also be accelerated in accordance with the law, as there is a requirement that officers complete training programmes lasting between one year and 18 months prior to promotions. He instructed the delegation to consider their requests sympathetically and to work to overcome any obstacles to giving promotions that may arise.
Dr. Jitendra Singh expressed his disappointment at seeing government workers depart from their positions without receiving the proper promotion and thanked Prime Minister Shri Narendra Modi for showing a personal interest in the situation. He claimed that going forward, all promotions will be made more efficiently because all legal issues had been resolved when 8,089 employees—4,734 from CSS, 2,966 from CSSS, and 389 from CSCS—were given promotions.
As you may remember, starting on July 1st, 2022, the DoPT gave major promotions to over 8,089 central government employees from three important secretariat services. Following several rounds of high-level meetings in DoPT over the past two months, presided over by Dr. Jitendra Singh, the orders for the mass promotion of these employees of the Central Secretariat Service (CSS), Central Secretariat Stenographers' Service (CSSS), and Central Secretariat Clerical Service (CSCS) have been released. Even legal experts, according to the Minister, were heavily briefed because several of the rulings were dependent on the resolution of ongoing writ cases.
Additionally, Dr. Jitendra Singh met with delegations of Central Secretariat officials on a number of occasions to discuss the problem because, in his opinion, these three services—CSS, CSSS, and CSCS—form the foundation of the administrative operation of the Central Secretariat.
Dr. Jitendra Singh also recalled that the DoPT had mass promoted over 4,000 officers in various departments at various levels more than three years ago, which had been well-received.
According to Dr. Jitendra Singh, the Secretariat Services are a crucial component of governance since the notes and draughts they produce serve as the foundation for government policies as they move through the many tiers of the administrative structure.
Source: PIB