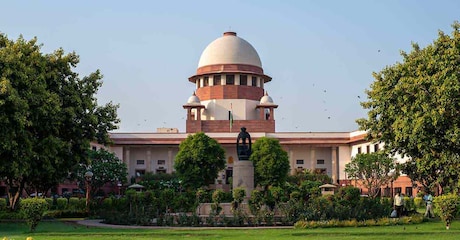 While hearing a slew of petitions challenging the constitutional validity of the 103rd amendment to the Constitution on Monday, the Supreme Court ruled that reservation on economic grounds does not contradict the core elements of the Indian Constitution.
While Justices Dinesh Maheshwari, Bela M Trivedi, and JB Pardiwala supported the quota, Chief Justice UU Lalit and Justice S Ravindra Bhat opposed it.
The amendment established a 10% reservation for Economically Weaker Sections (EWS) in admittance to educational institutions and government posts.
The decision was issued by a five-judge Supreme Court bench led by Chief Justice UU Lalit. "EWS reservation does not break the equality code or violate key feature of constitution and breach of 50% does not violate basic structure since the ceiling limit is here only for 16(4) and (5)," Justice Dinesh Maheshwari remarked as he read out the order.
"Reservation on economic grounds does not violate India's essential structure or Constitution," he stressed.
While agreeing with Justice Maheshwari, Justice Bela M Trivedi stated, "The quota must be viewed as affirmative action by the Parliament." There is no infringement of Article 14 or the core framework of the constitution."
"The EWS quota does not undermine the rights of restricted classes by exempting them from its scope," he noted. Reservation was implemented to redress disparities caused by the caste system. We need to rethink policy every 75 years in order to live up to the theory of transformational constitutionalism."
The quota was also supported by Justice JB Pardiwala. "The reservation is not an aim in itself, but a means to achieve social and economic fairness... It must not be permitted to become vested... The reservation should not be extended indefinitely in order to create vested interests."
While dissenting from the aforementioned justices' decision, Justice Bhat stated: "Amendment practises constitutionally prohibited discrimination and strikes at the heart of the quality code." Allowing a breach of the 50% reservation cap may result in future infractions, which may result in compartmentalization."
Chief Justice Lalit agreed with Justice Bhat's viewpoint, resulting in a 3-2 decision.