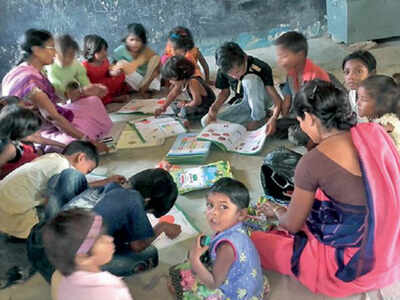 The Supreme Court ruled Monday that anganwadi workers and volunteers who look after the nutritional needs of 158 million children, whom the government refers to as the country's "future resource," are entitled to gratuity, a form of basic social security. The apex court directed the Gujarat government to clear the gratuity dues with 10 per cent interest within three months. The apex court also said that the central and state governments should be ready to improve the service conditions of anganwadi workers.
A bench of Justices Ajay Rastogi and Abhay S Said that anganwadi workers are also entitled to gratuity under the Gratuity Distribution Act, 1972. The verdict was pronounced by a bench comprising Oka and others. The Supreme Court set aside a division bench of the Gujarat High Court which ruled that it was not entitled to gratuity.
The court noted that anganwadi workers played a crucial role in the country's war against coronavirus. The court also pointed out that the time has come for timely changes in their terms of service. The apex court passed the order on a petition filed by the Gujarat Anganwadi Workers and Helpers Union.
Senior advocate P.V. Surendra Nath, and advocate K.R. Subhash Chandran represented the unions. The All India Federation of Anganwadi Workers and Helpers' Union welcomed the Supreme Court's verdict. Union general secretary A.R. Sindhu demanded.