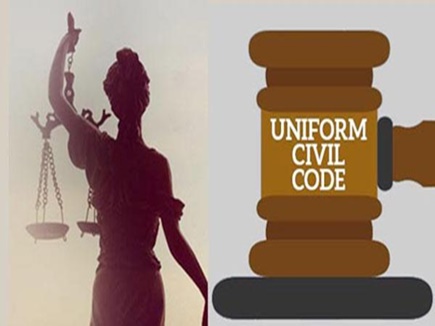 The BJP has begun moves to implement the Uniform Civil Code in the country ahead of the upcoming Lok Sabha elections in 2024. As part of this, efforts are being made in the BJP-ruled states to bring the issue up for active discussion. The BJP chief ministers have requested that the centre implement the Uniform Civil Code.
Uttarakhand Chief Minister Pushkar Singh Dhami has announced the formation of a high-level committee to design a Uniform Civil Code in the state. The state will not be permitted to violate the state's community harmony for whatever cause. He asserted that if Uttarakhand adopts a uniform civil code, other states will follow it.
Dhami stated on Saturday that the idea to establish a high-level expert committee to create the Uniform Civil Code was agreed upon in the first cabinet meeting. The BJP campaigned on a promise to adopt a unified civil code in the recently concluded Uttarakhand assembly elections.
Deputy Chief Minister Keshav Prasad Maurya of Uttar Pradesh stated that the state administration was seriously contemplating implementing the Uniform Civil Code. The up deputy chief minister's declaration followed the order from the Uttarakhand administration. According to Keshav Prasad Maurya, it is being planned to be implemented as soon as possible in the country and state.
On Monday, Himachal Pradesh's Chief Minister made a statement along similar lines. Chief Minister Jai Ram Thakur stated that the adoption of the Uniform Civil Code was a wise decision. "My government is investigating the possibility of implementing a single civil code in Himachal Pradesh. He stated that he was prepared to carry it out. Assam's Chief Minister also made a similar announcement.
Ajay Pratap Singh, a BJP leader and Rajya Sabha member, has written to Madhya Pradesh Chief Minister Shivraj Singh Chouhan requesting the formation of a commission to examine several elements of the Uniform Civil Code's implementation. The BJP's manifesto includes a section on the introduction of a uniform civil code. Amit Shah, Union Home Minister, intimated yesterday at the party's core committee meeting in Madhya Pradesh that it would be implemented shortly.
"Controversial issues such as the CAA, the Ram temple, the triple talaq, and the abolition of Jammu & Kashmir's special status have been settled. "Now is the moment to put the uniform personal law into effect," Shah stated during the meeting. He stated that as a pilot project, a unified personal law will be established in Uttarakhand. He stated that everything will occur on time and that employees should refrain from engaging in activities that would jeopardise the party.