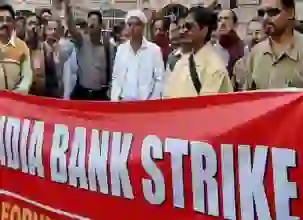 From Tuesday, employees of numerous state-owned banks, including the State Bank of India (SBI), will go on strike for two days i.e. on December 16 and 17, 2021. A two-day bank strike has been announced by the United Forum of Bank Unions (UFBU), an umbrella group of nine bank unions, to protest the government's decision to privatise many banks in the country. AIBOC, All India Bank Employees Association (AIBEA), and the National Organisation of Bank Workers (NOBW) are among the nine unions that make up UFBU.
During the current Winter Session of Parliament, the government has decided to present the Banking Laws (Amendment) Bill, 2021. The bill's goal is to privatise public banks.
The constituent Unions of UFBU viz. AIBEA, AIBOC, NCBE, AIBOA, BEFI, INBEF and INBOC have been issued notices saying that their operations are likely to take a hit due to the disruption.
State Bank of India (SBI) had already warned customers about the nationwide strike's possible impact on banking operations. Most of the other banks have also cautioned their customers about the strike's possible impact on banking operations like cheque clearance and fund transfer.
A meeting was held between bank unions and the government on Wednesday, but no breakthrough could be reached after which the plan to go ahead with the strike was executed, All India Bank Officers' Confederation (AIBOC) General Secretary Soumya Datta said.
On Monday, all public sector banks, including SBI, requested the unions to reconsider their decision and refrain from participating in the strike in the interest of customers, investors, and banks.
United Forum of Bank Unions convener Mahesh Mishra said that bank unions support policies related to the economic development of the country along with employee and friendly banking policies but not privatisation of banks. He said a notice related to the strike has been given by the United Forum to the Indian Banks' Association.