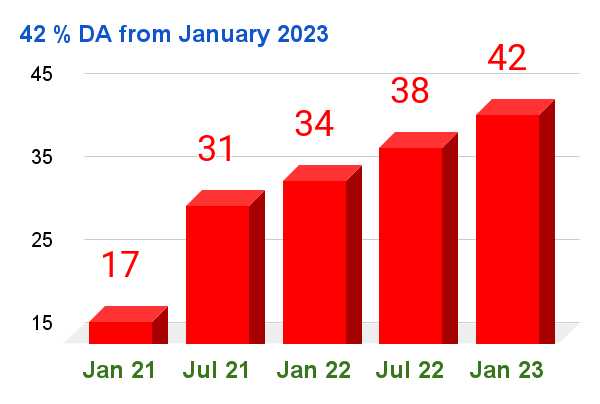 The All-India CPI-IW (consumer price index for industrial workers) for December 2022 decreased by 0.2 points and stood at 132.3 points. It was 132.5 points in November 2022.
On one-month percentage change, it decreased by 0.15 per cent with respect to the previous month compared to a decrease of 0.24 per cent recorded between corresponding months a year ago.
All the CPI-IW indices required for calculation of the DA or dearness allowance from January 2023 is now available. The increase in dearness allowance is one of the most eagerly anticipated pieces of news for CG staff.
The AI CPI-IW statistics will serve as the cornerstone for calculating the rise in Dearness Allowance for central government employees. Beginning in January 2023, the Dearness Allowance will be computed using the CPI-IW for the months of January through December 2022.
And since the index for all required months are available, the DA from January 2023 will be in all respects 42%, again with a hike of 4%.
There are lot of news articles stating the the DA hike will be announced with the Budget and also the the arrears will be paid etc. These are just pieces of fake news.
The cabinet has to approve the DA hike and the Finance Ministry has to issue the OM before the central government staff can receive the increased DA in their hands. It will be around March end or April begining before the good news on DA hike from January 2023.
Also, check out: Expected Dearness Allowance (DA) from January 2023 Calculator
Also, check out: Expected Dearness Allowance (DA) from July 2023 Calculator