The Notion Ink is making headlines again with the launch of Cain - the windows 8.1 tablet-PC hybrid with a proce tage of Rs 19990 right. It's being described as a 2-in-1 PC because it functions like a tablet as well as a laptop of sorts. It plays the role of the latter when you hook it up with the docking station containing the keyboard.
Now Notion Ink has waded into Microsoft's territory with the Cain that runs Windows 8.1 with Bing software. The device will be powered by Intel Atom Processor Z3735D. It will also have a large 7900 mAh lithium polymer battery to power the 10.1-inch 1280×800 IPS LCD display. This will give upto 7 hours of video playback or allows up to 10 hours of internet surfing on a single charge. The device will also have 2GB RAM and 32GB internal memory. Connectivity options include Wi-Fi and a USB 3.0 port.
The device comes with site warranty which will be valid for an entire year after purchase. So if there are any problems with the device, users will be first issued a brand new one and only then will the defective tablet/PC hybrid be picked up for repairs.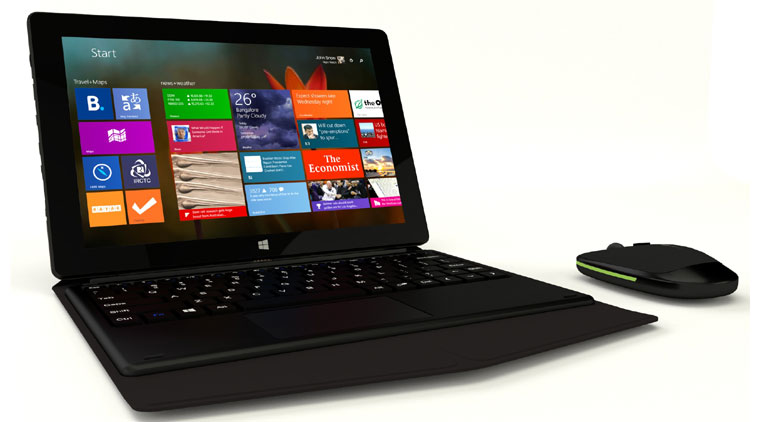 Main specifications:
Quad core 1.8GHz Intel Atom Z3735D Bay Trail processor
Windows 8.1 OS
2GB RAM, 32GB internal memory, up to 32GB expandability
10.1-inch 1280 x 800p resolution IPS LCD touchscreen
2MP cameras on front and rear
3G support via dongle, Wi-Fi, Bluetooth 4.0, mini HDMI, USB 3.0
10.2 x 6.8 x 0.3 inches
650 grams
7900mAh battery, about 7 hours of video playback
Notion Ink Cain 2-in-1 PC
The Notion Ink Cain 2-in-1 PC can be purchased by hitting this Snapdeal link. It is said to be an exclusive to this online vendor, though we've seen otherwise in certain cases. It sells with a free 1-year subscription to Microsoft Office 365.
The tablet will compete against the likes of the iBall Slide WQ32 tablet which was launched recently for INR 16,999, Xolo Win Tab and Croma's XT1179 tablets, all of which are Windows 8.1 tablets. The Croma XT1179 is available for INR 13,990 while the Xolo tablet is the most expensive at INR 21,999.