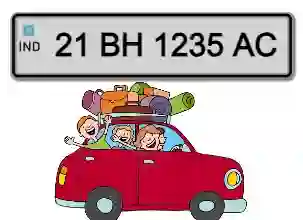 Transferring the registration of a car or a two-wheeler from one state to another can be a hassle. One must obtain a NOC from the current state before re-registering the vehicle in the next state where it will be relocated. There's also the matter of having to pay road tax to the next state all over again. To solve this issue, the Ministry of Road Transport and Highways has notified Bharat series of "BH" series of registration which people can opt for.
A personal vehicle bearing a BH-series registration mark will not require the assignment of a new registration mark if the vehicle owner moves from one state to another
Who can apply for BH-series registration?
The "Bharat series (BH-series)" vehicle registration facility is meant for those who are in transferable jobs. It is available on a voluntary basis to Defense personnel, employees of the central government, state governments, central and state Public Sector Undertakings, and also the private sector companies with offices in four or more States/Union territories.
How will be the road tax collected?
Vehicles registered under the BH system will be subject to road tax for two years and in multiples of two thereafter, rather than the owner paying for the entire 15-year period upfront. Because the tax has not been pre-paid, the owner is not required to seek a refund before or after relocation. After the fourteenth year, the motor vehicle tax shall be levied annually and shall be half of the amount previously charged for that vehicle.
How much will be the road tax?
The government has decided that BH registration vehicle is less than Rs 10 lakh, the road tax will be charged at 8%. For those priced between Rs 10 and Rs 20 lakh, the tax will be 10%. The tax rate will be 12% for vehicles costing more than Rs 20 lakh. A 2% surcharge will be applied to diesel vehicles. Electric vehicles will get a 2% reduction in tax. The amount of road tax charged varies by state, but this is the general range.
| | | | |
| --- | --- | --- | --- |
| Price of Car | Road Tax on EV | Road Tax on Petrol, CNG Cars | Road Tax on Diesel Cars |
| Below 10 Lakh | 6% | 8% | 10% |
| 10 Lakh - 20 Lakh | 8% | 10% | 12% |
| > 20 Lakh | 10% | 12% | 14% |
The taxes are for fifteen years which need to be paid in portions every two years. After 15 years, tax shall be levied annually which shall be half of the amount which was charged earlier for that vehicle.
What Documents are Required for Registration?
Below are documents required for Vehicle Registration for BH Series Number Plate
PAN Card
Office ID Card (for Government Employee or PSU Employee) / Form 60 for Private Sector Employee
Aadhar Card (if the address matches current address)
Any Utility Bill / Bank Statement / LIC Policy Copy / Landline Bill (if Aadhar address do not match with current address)
Form 60 for private employees here means a Letterhead Declaration by the Employer that

They have offices in more than 4 States with Address Details
You are Permanent Employee of Company
What is the number format of BH series registration?
A typical BH number may look like "21 BH XXXX AA".
In this the first two digits are the year of the first registration, BH is the code for the series, the four numbers (XXXX) are randomly generated, followed by two letters of the English alphabet.