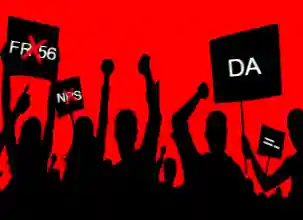 During Parliament's Budget Session on February 23 and 24, 2022 a joint platform of central trade unions has called for a nationwide general strike.
The strike's major message will be "Save the People, Save the Nation," according to the statement.
"The Joint Platform of Central Trade Unions and Independent sectoral All India Federations and Associations met in Delhi on 3rd December 2021, and finalised the dates for the countrywide 2-days' general strike on 23-24 February 2021 during the budget session of Parliament as announced by the National Convention of Workers held on 11th November 2021 at New Delhi, against the anti-people, anti-worker and anti-national destructive policies of the BJP Government at the centre," a joint statement said. The strike's major message will be "Save the People, Save the Nation," according to the statement. The joint platform also applauds and supports the United Forum of Bank Unions' decision to hold a two-day nationwide strike in banks on December 16-17, 2021, and the strike decision by the Electricity Employees' Joint Forum on February 1, 2021, both in opposition to privatisation and retrograde legislative moves in that direction.
The decision was made to undertake joint preparation public meetings in conjunction with the Samyukta Kisan Morcha (SKM) leadership, particularly in states that will go to polls in the first half of 2022, to bolster the SKM's call for "Mission UP" and "Mission Uttarakhand," according to the statement.
Despite the government's readiness to repeal agricultural laws, the strike was called highlighting the sale of public sector enterprises and problems in the industrial sector.
Following the removal of the Farm Laws, the combined platform of trade unions and federations reaffirmed its proactive support for the SKM's programmes and fights.
According to the statement, state units of the joint platform of central trade unions and independent sectoral federations will conduct intensive campaigns together in a variety of ways, including state conventions, human chains, torchlight processions, signature campaigns, sectoral and area-based joint campaigns, and so on.