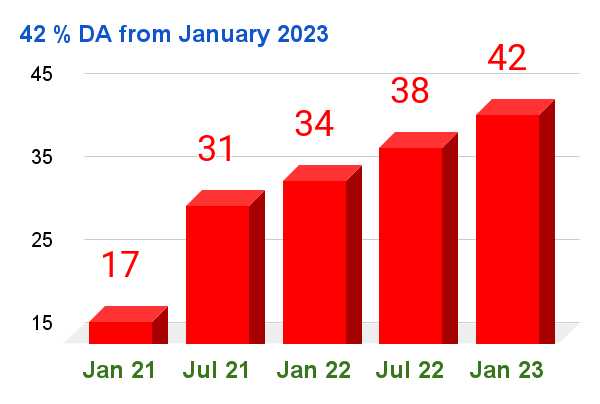 In September 2022, the All-India CPI-IW climbed by 1.1 points to 131.3. (one hundred thirty-one point three). In terms of a 1-month percentage change, it rose by 0.84 per cent from the previous month, compared to a 0.24 per cent growth between comparable months a year earlier. The Food & Beverages group exerted the most significant upward impact on the current index, contributing 0.68 percentage points to the overall change.
One of the most anticipated pieces of CG staff news is the increase in DA.
The Dearness Allowance (DA) for central government employees is determined using CPI IW data. The increase in DA will take effect in January 2023. The Dearness Allowance for Central Government Employees is determined using the CPI-IW index's 12-month average. The indices for three additional months are needed to calculate the Dearness allowance starting from January 2023. However, it is anticipated that DA will increase by 4% in January 2023, bringing the total to 42%.
By using the StaffCorner Expected Dearness Allowance (DA) from January 2023 Calculator, you can attempt the DA calculation yourself.