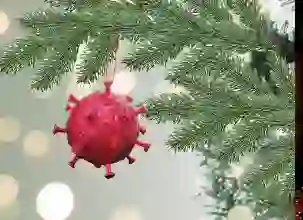 A night curfew has been declared in Uttar Pradesh, effective tomorrow (Saturday) from 11 p.m. to 5 a.m., in response to growing concern about the spread of the Omicron coronavirus variant.
Furthermore, UP stated that only 200 people could attend weddings and social functions where all necessary Covid-safety protocols must be followed. According to government sources, Chief Minister Yogi Adityanath has also directed all shopkeepers and traders to adhere to the "no mask, no goods" policy.
The country in the last 24 hours recorded 122 new cases of the Omicron variant of coronavirus, the highest so far, pushing its tally in the country to 358, 114 of which have either recovered or migrated, according to Union Health Ministry data updated on Friday. Overall, India reported 6,650 new Covid-19 cases, 374 deaths over the last 24 hours.
In a review meeting on the country's coronavirus situation, Prime Minister Narendra Modi directed officials to ensure that, in light of the Omicron variant, states have fully functional oxygen supply equipment, ambulances, and the infrastructure for effective and supervised monitoring of those in home isolation. The state governments were asked to ensure that first and second doses of the Covid-19 vaccine are administered to all eligible beneficiaries
Allahabad High Court has also urged the Election Commission of India and the Prime Minister to postpone polls and to immediately ban rallies and public meetings of political parties in the state.
Officials have also been directed to ensure that all visitors to UP from abroad and other states are tested for Covid, with special emphasis on railway and bus stations.
Shivraj Chouhan, the Chief Minister of Madhya Pradesh, announced yesterday that a night curfew from 11 p.m. to 5 a.m. would be implemented immediately. An Omicron Covid case has yet to be recorded by the state.
Thirty-one new COVID-19 cases were reported across UP on Thursday - much lower than the tens of thousands of cases detected daily in April-May. The state has reported two Omicron cases so far.