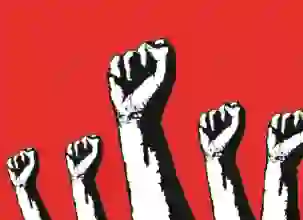 If the Central government's proposed attempt to present the Bank Privatization Bill in the upcoming Parliamentary session, which is scheduled to begin on July 18, is approved, the All India Bank Employees Association would begin a protest at Jantar Mantar in New Delhi on July 21.
Comrade Devidas Tuljapurkar, the general secretary of the Maharashtra State Bank Employees Federation, was with him when he spoke to the media today evening "Unions representing bank employees are opposing the privatisation of nationalised banks. We will inform the public in order to have this bill overturned."
Venkatachalam continued, "Banks' two basic responsibilities are to secure citizen money and support agriculture and other small businesses for the sake of the nation. The government should consider whether private banks or nationalised banks will be more reliable in providing these jobs. In the name of privatisation, only the service issue is raised. We tolerate service lags, but given the massive client base, nationalised banks cannot avoid them.
"Employees are hired by private banks at lower wages while they are hired by nationalised banks at greater wages and given permanent positions. We demand increased hiring in the nationalised banks since it will ultimately benefit the general public "Added he.
The AIBEA General Secretary stated, "We firmly think that nationalised banks keep the funds of laymen secure and consequently, there is no option other than the nationalised banks, therefore, we reject privatisation."
Tuljapurkar spoke on the occasion and said: "Privatization will make the 165 lakh crore fund held by the average person unstable. Banking for the wealthy will replace mass banking. The risk of banking, as well as the funding of small companies and agriculture, is that it will deceive the weak and the impoverished. Loans totalling roughly 120 lakh crores have so far been dispersed. These are all real possibilities, supported by several polls that are occasionally undertaken.
"We are requesting prompt repayment of loans owed to large market players, but the government keeps providing them with bailout packages," he continued.
"We have fought over this subject since 1992, and 32 agitations have been organised. If this measure is approved, 10 lakh bank employees and officers would start agitating right away. Nine organisations, including AIBEA, AIBOC, NCBE, AIBOA, BEFI, INBEF, INBOC, NOBW, and NOBO, will take part in these protests "Tuljapurkar added.