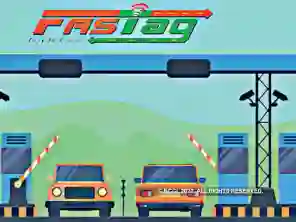 The Ministry of Road Transport and Highways (MoRTH) has made the FASTags mandatory for all four-wheelers from January 1, Union Minister for Road Transport, Highways and MSMEs Nitin Gadkari made an announcement regarding the same on Thursday, December 4. The minister told that it is useful for the commuters as they will not need to stop at toll plazas for cash payments and that it also saves time and fuel.
It has also been mandated that a valid FASTag is mandatory while getting new third party insurance through an amendment in FORM 51 (certificate of Insurance), wherein the details of FASTag ID shall be captured. This shall be applicable from April 1, 2021.
The NHAI functioning under the Ministry of Road Transport and Highways, in a circular dated December 4, had issued detailed Standard Operating Procedures (SOP) for 100% implementation of FASTag from January 1.. Any vehicle that enters the toll lane will be made to pay the double user fee. NHAI has decided that vehicles without FASTag can get it at all the toll plazas. Personals will be deployed to guide non-FASTag vehicles to go to the POS and buy the tags and then enter the designated lanes.
The SOP also says that the Electronic Toll Collection infrastructure at the plazas should be fully operational and top class and any normal FASTag vehicle will be able to cross the toll plaza within three seconds without stopping. Hand-held readers are strictly prohibited except in temporary toll plazas. Spot recharge of FASTag and quick complaint redressal are some of the SOPs.
The authorities have also prohibited back and forth movement of vehicles to adjust FASTag reading. CCTV camera feed would be checked to verify this and strict penal action would be taken against the concessionaire if such activity is noted, the guidelines suggest. In what will be a relief for the vehicle users is that if the ETC is not working, a free pass will be given to the valid FASTag holders.
The Ministry of Road Transportation and Highways have been taking newer initiatives. One of them is the ambitious project to make the country free of toll booths by levying toll based on GPS. This will make the FASTags obsolete.
Read: India to become 'toll-booth-free'. Govt finalises GPS based technology