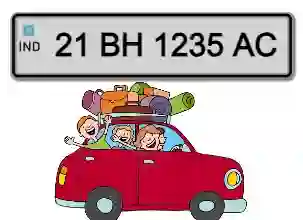 Ministry of Road Transport has introduced a new unified registration system called BH Series for new vehicles. The advantage is that a vehicle with BH registration does not have to be re-registered when it moves from one state to another state.
Central and state government employees, military-security personnel, and employees of private companies with offices in four or more states can apply for BH registration, the order said.
The registration will have the following format - YY BH #### XX, where YY is the year of registration.
The BH series is expected to be a solution to the unified system across the country. According to the Ministry of Surface Transport, when the owner moves from one state to another for a vehicle with BH registration, no such re-registration difficulties should be experienced.
Vehicle tax will be levied for two years or two times. The tax on vehicles completed for 14 years will be half of what was levied annually.
BH registration process will be available online. You don't have to go to RTO offices.