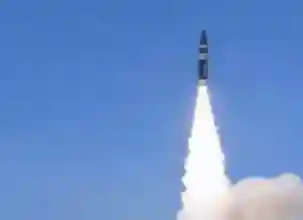 Agni Prime, the next-generation nuclear-capable missile was successfully test-fired by the DRDO today. The missile is a more advanced version of the existing Agni class of missiles.
A statement by the Defence Research and Development Organisation, or DRDO, said the successful test - which began at 10.55 am - was a "textbook launch", and took place at a testing facility on Dr APJ Abdul Kalam island, which located is in around 150 km east of Bhubaneswar.
Agni Prime is the first of the new class of Agni missile to be launched by DRDO. It has got a new guidance system and a new generation of propulsion systems. The missile, which has a range between 1000km to 2000km, can be used to target enemy armadas in the Indo-Pacific. The missile is made fully of a composite material, which makes its weight 50% less than Agni 3. Also, the missile is canisterised which means it can be launched from rail and road and stored for a longer period and transported all across the country as per operational requirements. This gives the armed forces, the requisite operational flexibility to swiftly transport and fire it from anywhere they want.