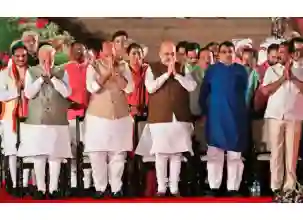 Prime Minister Narendra Modi's new cabinet will be announced on Wednesday at 6 pm. After this first major reshuffle in the second Modi term, it is expected to become a mega cabinet. Sources indicate that the new cabinet will be the youngest one ever.
The new cabinet is expected to have more representation from the women and people with administrative experience. Lawmakers from the Other Backward Class will be given higher representation with sources indicating that figure to be around two dozen. The smaller communities also have been considered.
Apart from being the youngest, it is likely to be one with higher educational qualifications. Many of the ministers to are learned to be PhDs, MBAs, post-graduates and professionals.
Currently, there are 53 ministers in the Union Cabinet that can have at most 81 members. So, 28 additional ministers can be assigned. A new ministry. Ministry Of Cooperation, will provide separate administrative, legal, policy framework for strengthening cooperative movement has been created. According to government sources, the new ministry will aim to realize the government's vision of 'Sahkar se Samriddhi'.
Many probable names are being heard like that of Jyotiraditya Scindia, Sarbananda Sonowal, Pashupati Paras etc. (Read: Union Cabinet re-shuffle and expansion expected in a day or two.) However, the full list will be known only by tomorrow 6:00 pm.