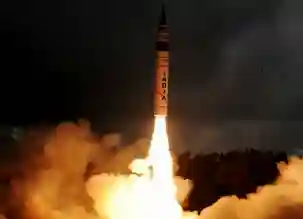 The country today successfully test-fired the Agni-5, a surface-to-surface ballistic missile that can accurately strike targets up to 5,000 km away. The tests will convey a strong strategic signal to China, which continues to create problems along the border. With this, even the northernmost part of China is now under the striking range of the Agni-5.
Agni-5, which broadly falls into the category of an Intercontinental Ballistic Missile or ICBM, was launched from the APJ Abdul Kalam Island, off the coast of Odisha, at 7:50 pm.
This is the first time that the Agni 5 ICBM was fired by the end-user - the Tri-Services Strategic Forces Command (SFC), which had inducted the missile. Earlier tests were carried out by the DRDO. As per media reports, the missile has been already deployed by Strategic Forces Command. Also, this is the first time that the missile is tested during the night.
The missile uses a three-stage solid-fueled engine and can strike targets with a very high degree of accuracy. The indigenously-developed surface-to-surface missile, Agni-5, has a declared striking target of more than 5,000 km. Many analysts believe that the actual capability is 8000km or more. It is about 17-metre long, 2-metre wide and has a launch weight of around 50 tonnes. The missile can carry a nuclear warhead of more than one tonne.
Agni-1 to 5 missiles are designed and developed by the Defence Research and Development Organisation (DRDO). At present, apart from the Agni-5, other Agni missiles that India has in its armory are: Agni-1 with a 700-km range, Agni-2 with a 2,000-km range, Agni-3 and Agni-4 with 2,500 km to more than 3,500 km range.
In June, India test-fired the nuclear-capable Agni Prime ballistic missile - a more advanced version of the Agni class of missiles - from a location off the Odisha coast.