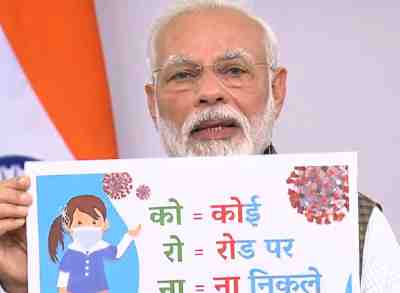 India's 1.3 billion people will go under "total lockdown" from midnight for three weeks to fight the spread of coronavirus, Prime Minister Narendra Modi said today. "From midnight, the entire country will be in lockdown, total lockdown. To save India, to save its every citizen, you, your family... every street, every neighbourhood is being put under lockdown," he declared.
"Forget about leaving home in the next 21 days... If you cross the Lakshman Rekha, you will invite the virus home," PM Modi said in his second address to the nation in a week.
"21 days' lockdown may seem to be a long time, but this is the only way to ensure everyone is safe. If we don't handle these 21 days well, then our country, your family will go backwards by 21 years," the PM said, folding his hands several times during his half-hour speech.
There is "absolutely no need to panic", centre and states are working to ensure that essential supplies are not disrupted, he said, adding that his government had set aside Rs 15,000 crore to strengthen the health infrastructure to tackle coronavirus.
India, said PM Modi, was at a critical stage where even a single misstep could lead to the deadly virus spreading like wildfire.
"Some think social distancing is only for patients. That's not correct. Social distancing is the only way to fight the virus. It is for every citizen, every family, every member, even for the Prime Minister."