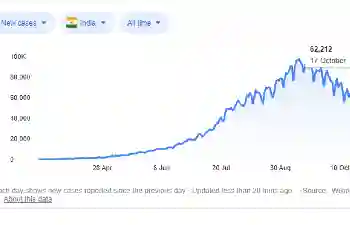 A committee appointed by the government has indicated that the Covid-19 pandemic can be controlled with minimal active symptomatic infections by February-end next year.
The committee, headed by M Vidyasagar, professor at IIT Hyderabad, was constituted to evolve a national supermodel for Covid-19 progression in order to help the government make short term and medium-term plans and decisions.
As part of its study 'Progression of the Covid-19 pandemic in India: prognosis and lockdown impact' published in the Indian Journal of Medical Research, the committee had to quantify the effects of lockdown, the impact of migrants returning home on the spread of the infection and economic optimization.
The committee concluded that India has already crossed its Covid-19 peak in mid-September and will record minimal active symptomatic infections by early next year if safety protocols are followed.
"If there was no lockdown, we would have had a peak that was 15 times higher in the middle of June, which would have been overwhelming. By enforcing the lockdown in March, we not only reduced the load on our system but also pushed the peak to September from the projected May-end," said Vidyasagar. He added that with no lockdown, the pandemic would have led to a peak load of 140+ lakh cases by June.
Although the committee predicts that the ensuing festival and winter seasons may increase the susceptibility to infection, district and higher level lockdowns were not recommended any further.
"Relaxation in protective measures can lead to a significant rise of up to 26 lakh infections within a month. Existing personal safety protocols need to continue in full measure. Otherwise, we will see a sharp rise in infections," said Vidyasagar.