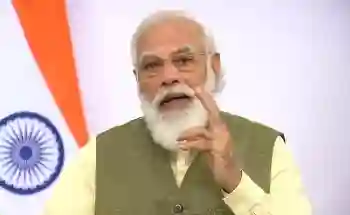 Prime Minister Narendra Modi stated the importance of the private sector in building the economy. He made a strong argument in favour of privitisation. He made the point that statements against the private enterprise meant distrusting the potential of youth and suspecting their intent.
The remarks have significance at it was stated in the backdrops of the moves towards the privatisation of the PSUs. In Budget 2021, the Finance Minister announced the privatisation policy with the road map for overhauling public sector enterprises.
The Government is also planning privatization of many other public institutions of the country like railways and LIC. It is reported that the finance ministry has asked the think tank NITI Aayog to prepare a plan to sell the assets in the next 5 years. Addressing an event organized by the trade organization FICCI, Additional Secretary of the Ministry of Finance K.K. Rajarajan had said recently that the NITI Aayog has prepared a plan for asset monetization of Rs 1 lakh crore
"If the public sector is important, so is the participation of private enterprise. Should members of the IAS alone be tasked with everything? Have we entrusted the IAS with running fertiliser factories and chemical enterprises? Then they are supposed to fly planes as well. What type of capability have we acquired by handing over the country to babus. Babus belong to us and so do the youth. The more opportunity we give to our youth, the more he will benefit," Modi said.